John Deere XUV | Pare Brise Pliant | Folding Windshield -JXAP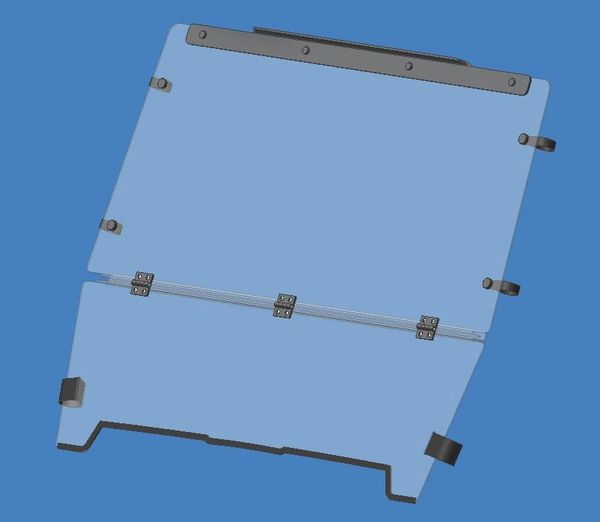 John Deere XUV | Pare Brise Pliant | Folding Windshield -JXAP
Compatible:
XUV 620i | 625i | 825i | 850D | 855D | HPX ( 2003-12 )
XUV 625i | 825i | 825i s4 | 855D | 855D s4 | HPX ( 2013-19 )

(English Below)
Pare-brise avec bas pliant comprenant demi bas et demi haut fait de polycarbonate conçue pour une utilisation polyvalente. Section inférieur pouvant être replié sur la partie supérieur. La section du milieu est conçue avec 3 pentures pour retenir fermement les section afin de former un pare-brise complet.
Fabriqué de polycarbonate incassable 10X plus fort que le verre trempé, 20x plexiglas, 50x le verre régulier et verre de sécurité, peut être plié, passe 15% plus de lumière que le verre, ne transpire ou bue dans le froid comme du verre. Le matériel est incassable, c'est garanti!
Pièces resistantes aux rayons UV et corrosion.
Installation facile. Aucun perçage requis.
Attaches:
- Courroie Robuste: Pour que la section inférieur se replient facilement pour ouvrir le capot. 
- Bride Anti-Corrosion: Pour la section supérieur soit sécurisé solidement.
5 options disponibles:
Revêtement Protecteur:
- Général: Pour usage léger, peu fréquent ou en hiver en sentiers couvert de neige
- Général Teinté (Disponible BAS Seulement): Pour réductions des éblouissements causé par éblouissement, le soleil ou neige en sentier léger, peu fréquent ou en hiver en sentiers couvert de neige
- Anti-Égratignure: Pour une résistance contre l'abrasion des éléments hors-route, usage fréquent ou toutes saisons (boue, poussière, roches)

Rebord inférieur section du BAS:
- Arrondis: Pour une alternative plus économique `
- Caoutchouc: Pour une protection contre une abrasion possible entre le capot et le rebord inférieur de la section du bas
(ENGLISH)
Double split folding windshield made of polycarbonate designed for versatility of use. Lower and upper section can be folded on each other with simplicity. The middle section is designed to hold firmly unto both sections to complete the windshield.
Made of shatterproof polycarbonate 10X stronger than tempered glass, plexiglass 20x, 50x regular glass and safety glass, can be bent, let through 15% more light than glass, will not transpire or sweat in the cold like glass. The material is unbreakable, guaranteed!
Parts resistant to UV and rust.
Easy installation. No drilling required.
Fasteners:
- Heavy Duty Velcro: For lower section folds easily to clear the hood. 
- Rust proof Clamp: For upper section is secured onto the cage
5 options available:
Protective Coating:
- General: For light use, infrequent or winter use in a snow covered trails
- General Tinted (Available LOWER Only): For reduced glare caused by reflection, sun or snow in light trails, infrequent or winter use in a snow covered trails
- Anti-Abrasion: For abrasion resistance against off-road elements, frequent usage or all seasons (mud, dust, rocks)
Lower Section Bottom Edge:
- Rounded: For lower cost alternative
- Rubber: For protection against possible abrasion between hood and lower bottom section
Reviews